Discover critical vulnerabilities in 1 hour and fix them immediatly.
Read the Case Study on how POLIMI Graduate School of Management tested the Cybersecurity Posture of their LMS Platform before the launch with WhiteJar's Crowdsourced PenTest.
Schools and universities are extremely vulnerable to cyberattacks. The best way for educational institutions to defend themselves is to test their platforms and websites for vulnerabilities.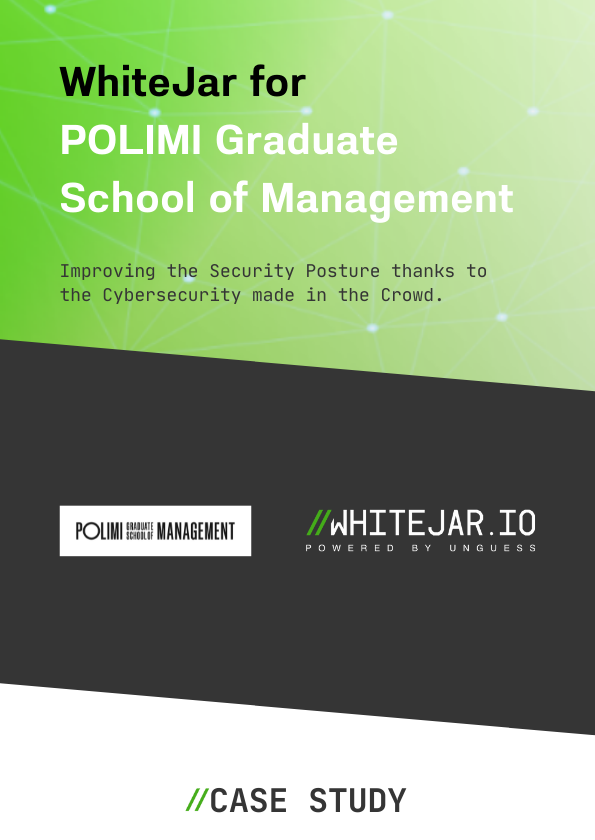 Do you want download this Case Study?
Fill in the form and download it!
What is WhiteJar?
"WhiteJar - powered by UNGUESS" is the first Italian Bug Security Bounty service that provides companies and public administrations with a Community of hundreds of Ethical Hackers ready to carry out continuous Vulnerability Assessments and Penetration Testing through a proprietary platform.
WhiteJar members are all European residents and selected on the basis of their internet reputation and high standards of technical expertise. Our Crowd therefore exploits collective knowledge through a proprietary, secure and unique collaboration platform, the first guarantee for immediate and effective engagement in the fight against cybercrime.
Who is POLIMI Graduate School of Management
AN INNOVATIVE BUSINESS SCHOOL OF
INTERNATIONAL REPUTE WHICH OFFERS A WIDE
CURRICULA OF OPEN AND MASTER PROGRAMS –
INCLUDING MBA, EXECUTIVE MBA, AND TRAINING
PROGRAMS TAILORED TO CORPORATIONS.
LMS PLATFORM - POLIMI application platform for e-learning. Being the most used
by the students, this platform is full
of sensitive data and information to be protected.
Do you wanna try WhiteJar?
Book a call with our experts and let them guide you through the collaborative platform designed for Ethical Hackers and companies.